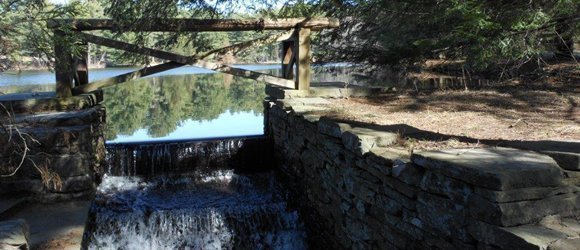 Wayne County's origins trace back to 1798, when it was created from Northampton County, a large tract of land that spanned much of the northeast corner of the state. Bethany, the beautiful village we call home was its original county seat.
Honesdale itself began in 1826 as a settlement at the confluence of the Lackawaxen River and the Dyberry Creek. (The E. Kellogg was about ten years old at the time.) The coal industry, logging, and agriculture represented much of the region's early economy. Honesdale is "The Birthplace of the American Railroad," a title it earned on August 8, 1829 when the Stourbridge Lion made its inaugural run as part of the Gravity Railroad.
It is a scenic small town with a role in both history and popular culture. David Wilmot — author of the Wilmot Proviso — was born in Bethany and Jennie Brownscombe, the famous artist was born in Honesdale. Later-day heroes include General Lyman Louis Lemnitzer, United States Army General and former Chairman of the Joint Chiefs of Staff, and Art Wall, a noted golfer and winner of the Masters in 1959. The song "Winter Wonderland" was also written here, inspired by Honesdale's Central Park, while movies like Playing for Keeps, Long Kiss Goodnight, Wet Hot American Summer, and Blue Valentine have all either been filmed in Honesdale or reference the region. Dwight Shrute's fictional Shrute Farms featured on the Office is also located in Honesdale.
Although our region continues to gain recognition, it remains a peaceful and beautiful place. We hope you enjoy it as much as we do.