Directions to E. Kellogg Bed and Breakfast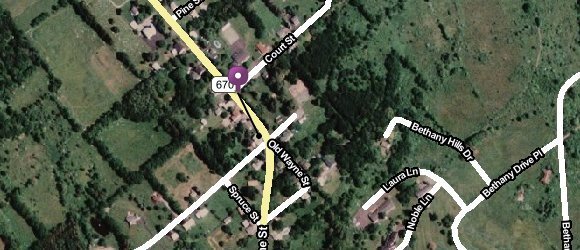 Discover calm, peace, and serenity at the E. Kellogg Bed & Breakfast. Whether it's a romantic retreat, a visit to your children at camp, or simply a weekend getaway all to yourself, you'll find we are ideally located and accessible by all major roads.
The E. Kellogg Bed and Breakfast is two hours from New York City and a few minutes more from Philadelphia.
E. Kellogg Bed & Breakfast
403 Wayne Street
Bethany, PA 18431
For directions, please use 403 OLD Wayne St., Bethany, PA. (not Honesdale)
Phone: (570) 253-5368
Email: stay@ekelloggbandb.com
Google Map - Get Directions GPS use Lat: 41 36 48 N & Long: 75 17 6W.
From Honesdale
Head North from Honesdale on North Main Street (Route 191) As you exit town you will come to a fork, follow Rt. 670 to the left. Travel North on Route 670 for approximately two miles. You'll proceed up a large hill and find the E Kellogg Bed and Breakfast to be the second house on the left after going around a sharp curve. For parking pull into the driveway just north of the Sitgrave House.
There is another Wayne Street in Honesdale. If using Mapquest or even GPS, please use Old Wayne Street or Rt. 670 Bethany to arrive at the E. Kellogg BnB.