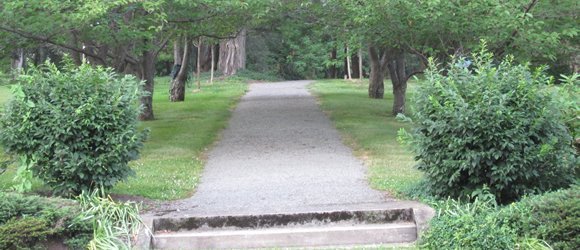 Looking for ways to make the most of your trip to Wayne County? Below are a few of our favorite historic landmarks, scenic spots, and recreational destinations.
In the neighborhood
Bethany Library & Public Libraries of Wayne County
Bethany was Wayne County's first county seat. Learn about its history, access the internet, or peruse the wide selection. This is a branch of the Wayne County Public Library system.
Bethany United Methodist Church
Immediately across the street. Services every Sunday.
Bethany First Presbyterian Church
Service held every Sunday. The Presbyterian Church is just a short stroll north.
Just a ten-minute drive:
Anthill Farm
Certified naturally grown, community supported agriculture project just a few miles away. You taste their products regularly here at the E. Kellogg.
Downtown Honesdale
Delightful dining and unique boutiques and shops, train rides, festivals, and more.
Himalayan Institute
A few miles north of Rt. 670, the Himalayan Institute regularly offers seminars, events, and programs to enrich your mind, body, and spirit.
Wayne County Historical Society and Museum
Explore the history of Honesdale and the surrounding region. The Historical Society recognized the E. Kellogg with an Award of Excellence for Adaptive Reuse.
Pennsylvania State Game Lands
Hunting, fishing, hiking — The E. Kellogg Bed & Breakfast is the perfect spot to be near all the perfect spots.
Prompton State Park
Biking and hiking trails, boating and fishing, and disc golf are all available.
Stourbridge Lion
Honesdale is the "Birthplace of the American Railroad."
Wayne County Courthouse
Hunting and fishing licenses, marriage licenses, and other essential services.
Wayne Memorial Hospital
Awaiting a new arrival? We are just a short drive away.
Only a half hour away:
Calkins Creamery
Delicious cheeses and meat. Kathy uses both in her cooking.
Callicoon, New York
A quaint community along the Delaware River. It's a scenic drive we often make for dinner and a movie
Claws and Paws Zoo
Lions and tigers and bears, oh my!
Costa's Family Fun Park
A great place for the whole family to play. Mini golf, a driving range, laser tag, bumper cars, and more.
Dorflinger-Suydam Sanctuary and Glass Museum
A glass museum celebrating the works of Christian Dorlfinger lives on a sprawling wildlife sanctuary. Hosts the Wildflower Music Festival every summer.
Elk Mountain
Pennsylvania's best skiing and snowboarding is but a 30-minute ride away. We'll have the fire and hot chocolate waiting.
Hawley, Pennsylvania
Honesdale's sister town is a 20-minute ride away. Its Main Street is lined with shops and restaurants including favorites like the Fallsport Inn. Be sure to visit the Looking Glass Gallery & Studio and introduce yourself to Juan Espino. Tell him Kathy sent you. A few of his pieces hang in the E. Kellogg.
Lake Wallenpaupack
Covering 5,700 acres, Lake Wallenpaupack is 13 ½ miles long with 52 miles of shoreline. The lake has six recreation areas featuring hundreds of acres of forest lands, swimming areas, wildlife, walking trails, and boat slips.
Narrowsburg, New York
Float your canoe south on the Delaware. Start at Callicoon and finish up in Narrowsburg.
Paupack Blueberry Farm
Pick your pleasure. There are other local berry picking farms. Just ask for our recommendations.
Roebling Bridge
Drive across the oldest existing wire cable suspension bridge in the nation.
Scenic Delaware River
Rafting, canoeing, swimming, fishing, and photography.
Ski Big Bear at Masthope Mountain
Downhill and cross country skiing and snow tubing.
Summer Camps
Visiting your kids at camp this summer? We're close to many including: Indian Head Camp, Camp Moshav, Camp Seneca, Camp Towanda, Camp Equinunk, Camp Blue Ridge, Tyler Hill Camp, Camp Cayuga Wiki, Camp Cayuga, Trail's End Camp, Camp Watonka Wiki Camp Watonka, Camp Wayne for Boys and Girls , and Summit Camp other camps are nearby, such as Camp Ramah in the Poconos, Camp Lavi, Camp Nesher, and Camp Morasha. French Woods Camp in Hancock, New York is also nearby. They offer great programs in the performing arts.
St. Tikhon's Monastery
America's oldest Orthodox Monastery is a short drive away. Open seven days a week. Tours are available.
Tanglewood Ski Mountain
The best skiing and snowboarding value in Pennsylvania is less than a half hour away.
Zane Grey Museum
Visit the home of the noted author and avid fisherman. Beautifully located along the Delaware.
About an hour give or take:
Bethel Woods
Home of the Woodstock Museum, summer concert series, and summer farmer's market.
Camelback Mountain and Camel Beach
Skiing and snowboarding in the winter, swimming and waterslides in the summer.
Downtown Scranton
Shop, dine, walk, and discover Scranton, Pennsylvania.
Lackawanna Coal Mine and Anthracite Museum
Go down in history to discover the role coal played in Scranton and the surrounding region.
Lackawanna Stadium — Scranton Wilkes-Barre Yankees
Catch up and coming talent at a family friendly park. Currently closed for renovations.
Mohegan Sun
Gaming, racing, and entertainment.
Montage Mountain
Winter activities and summer concerts.
Steamtown National Park
All aboard. Explore the history of the steam engine in Northeast Pennsylvania.
Viewmont mall Viewmont, Steamtown
Malls and the Shoppes at Montage Together these three malls offer a marvelous mix of specialty shops and retailers.
Scranton Cultural Center at the Masonic Temple
Concerts, theater productions, musical performances.
Shawnee Mountain Ski Area
Winter fun and summer and fall festivals.
Tannersville/Crossings Outlets
Designer fashions, shoes, and sportswear.